Greg Fathers / Property Consultant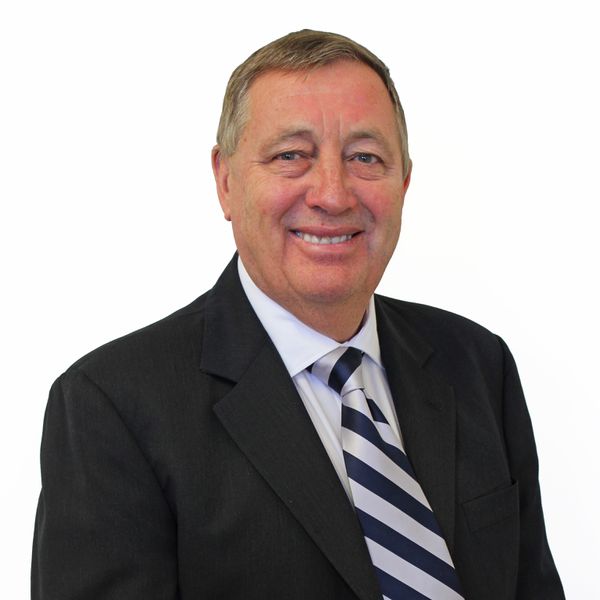 About
Licenced Real Estate Agent/Auctioneer, B.Bus, Grad Dip Ed, C.E.A, Dip Counselling.
Having worked in the North Central area for the last 35 years as a stock and station agent, agricultural supplies merchant and estate agent, Greg's experience and knowledge of the area is outstanding. With a strong affinity to agriculture and rural business development, Greg is actively involved in sales and management and promotes the benefits of regional and provincial living to his clients in the Bendigo region. He services a wide geographical area with residential, urban, rural and business sales and looks forward to assisting his extensive client base with all their real estate needs. This in-depth knowledge and longevity in the real estate industry enables Greg to efficiently list and sell properties over the entire Bendigo region. From farms to weekenders, new subdivisions to a bush block, become one of thousands that Greg has helped to either sell or buy their property.
Greg's early career started with Dalgetys, now West Farmers Landmark, with sales of rural and township properties throughout the Wimmera and Mallee area. Auctioning properties, clearing sales and Estate auctions have been a large part of Greg's real estate experience.
A qualified secondary teacher, Greg also taught the Real Estate Agents Representative Course at the Bendigo TAFE and tutored and graded off campus students' work for many of the regional TAFEs in the area for a number of years.
The genuine friendships developed by going the "extra mile" to ensure that all parties in the transaction are fairly treated and are happy and satisfied with the outcome is very rewarding for Greg.
Greg is thoroughly enjoying the great team spirit of working at Bendigo Property Plus where he has developed an impressive portfolio involving past and new clients who regularly call on him to advise on all their property needs.
Greg invites all new and previous clients to call him anytime for his expertise and professional advice in all matters of Real Estate.
Contact
Properties listed by Greg Fathers
""Excellent local knowledge""
Greg has excellent local knowledge of the district we were selling in and a very good understanding of the prevailing market conditions. He was courteous, punctual and professional with a no nonsense approach to handling our sale. He delivered what he promised with a minimum of fuss.
- James
Dingee
---
""Greg was great to deal with""
Greg was great to deal with at all stages of our purchase. He was always available to answer questions and provide advice and thanks to him, the transaction went very smoothly from start to finish.
- Dean
Dingee
---
""Greg is a true gentleman""
Greg was up to date with the market and obtained excellent prices in a timely manner. He is a true gentleman who did the extra bits that made the difference. It was a pleasure to work with him. Very professional in all aspects.
- Dave
Sailors Gully
---
""Highly recommend""
We had a wonderful experience from the start with Greg. Such a smooth transition to purchasing. Highly recommend buying a property listed with him. He met with us and always made us welcome, knew the market well and was responsive to questions.
- Lauren
Laanecoorie
---
""Everything was smooth""
I was very satisfied with Greg's service, knowledge and ability. Everything was smooth and straightforward with the sale of my property.
- Ken
Newbridge
---
""Always patient""
Knowledge of market up to date. Prompt acknowledgment of any requests. Always patient which is not easy in dealing with people.
- Marg
Kangaroo Flat
---
""Greg was very obliging""
Greg's knowledge of the Market is very good and he was always obliging to take into consideration anything I wanted to know when I purchased a property in Kangaroo Flat. The property I purchased had only just come on the market when I enquired about it. Greg was very obliging with anything about the house.
- Loretta
Kangaroo Flat
---
""Very happy overall!""
Excellent knowledge of area and market, especially considering the challenging times regarding Covid – 19. Was able to find a buyer to suit our selling requirements. Very happy overall!
- David
Wedderburn
---
""We always felt confident under your guidance""
Greg, thank you for everything. We always felt confident going through the process under your guidance. We are very happy how things went and the price we settled on, especially given the times we are in. On behalf of all of us, thanks again!
- Simon
Wedderburn
---
""We are very grateful for his advice""
Greg was very responsive, and always made sure to be of assistance however he could, oftentimes remotely due to COVID-19. Greg was even helpful after the transaction had taken place. We are very grateful for his advice, friendliness and trustworthiness, as well as his willingness to trust us.
- Paul & Nicole
Wedderburn
---
""Greg would be the first person I'd contact""
It has been a pleasure dealing with Greg, he has great knowledge in the real estate business. Greg would be the first person I'd contact should I buy again.
- Giovanni
Newbridge
---
""Thanks to Greg!""
We bought a land from Greg a few months ago. Greg is responsive and honest in his dealings with us. When I pointed out, with evidences that the land he was selling was over valued, Greg listened and responded with some corrective actions. As I have a full time job and cannot communicate with Greg during the day, correspondence with him is via email and at night. Greg responded to my late emails with no complains. Without his patience, this deal will be impossible to be sealed. Thanks to Greg!
- Gim
Kangaroo Flat
---
""Very helpful""
Greg's knowledge of the market is excellent. He is very helpful and has a happy nature.
- Phil & Jenny
Kangaroo Flat
---
""We really appreciate your support and patience""
Thanks for all your efforts and attention in the process; we really appreciate your support and patience over these weeks. Everything has gone pretty well. We look forward to continuing brotherly friendship and love with you. With much appreciation.
- Rik & Chandi
Neilborough
---
" "We knew you were the right person to sell our home""
Bob and I would like to thank you for your excellent effort towards the sale of our home. We believe your attention to detail and your professionalism were the key to the success we achieved. Most importantly your genuine honesty and understanding nature was appreciated by both of us. On our first meeting we instantly liked who we saw, you presented professionally, your knowledge of Real Estate and experience along with maturity were paramount, we knew you were the right person to sell our home. You communicated with us nearly every day about what was happening with the sale. You have an obvious passion for Real Estate. We have no hesitation in recommending you as an agent to any family, friends or acquaintances. We both wish you well in the future and many thanks once again on an excellent outcome.
- Bob & Pauline
Spring Gully
---
""Couldn't be happier""
After having my house on and off the market and a lot of false starts I decided to trust Greg with handling the sale of my property. Being in a slightly out of the way area I knew it wouldn't be easy but two days later had a sale contract. Couldn't be happier with the friendliness, professionalism and prompt reply to any and all queries. Thanks Greg for handling the sale of the property for me.
- Gayle
Dingee
---
""Excellent service""
Your reputation for excellent service is well deserved!!! You promptly respond to emails and make a great effort to make finding properties as easy as possible. If I am ever on the hunt for another property in your area I will definitely contact you.
- Michael
Clifton Hill
---
""The agent that other agents use!""
I am a Real Estate Agency Principal in QLD and I required a professional agent to sell my own vacant property in Rural Victoria. Being in the industry myself, I have high expectations regarding the level of service and results I expect from an agent.
Prior to appointing Greg, I had spoken with many others on the phone and found Greg to be one of the most knowledgeable and enthusiastic agents. Upon meeting with him and appointing him as Exclusive Agent, I felt immediately comfortable that I had made the right decision.
I always found him to be easily contactable and proactive. I received regular updates regarding the level of interest and subsequent buyer feedback, which allowed me to gauge how the marketing campaign was progressing.
The property was formally listed on Christmas eve, with multiple offers and a successful settlement in early February.
I would use Greg again if I had another property to sell.
- Rory
Hervey Bay
---
""I highly recommend Greg and the team""
After trying to sell our rental with two other agents with no success, we changed over to Bendigo Property Plus. Greg was a breath of fresh air and someone that you can trust and know that you weren't being "strung" along. A team visited the property first and gave us some hints and suggestions of what to update and change to increase our value. Greg communicated to us regularly and kept us in the loop with the inspections and the outcomes each time. I highly recommend Greg and the team and would have no hesitation in recommending to any of my friends.
- Sharon
Kangaroo Flat
---
""He solved all my problems""
I had the difficult task of selling a relative's house which had been turned into a dump. I was fortunate enough to find Greg Fathers who took on the task with gusto. He solved all my problems, had the house restored to order, the grounds cleared and managed to sell it for me within 3 months. I was continually kept in the loop as I lived a distance away, by emails and photos. An outstanding effort and one for which I am truly grateful. I have no hesitation in recommending his services.
- Rosie
Bendigo
---
""I'm certainly very happy""
I would like to take this opportunity to sincerely thank you, Greg & Linda, for your support and advice in selling my home. After a shaky start with buyer's who wanted the world, you were both able to ease my mind that a better buyer would come along – and I was pleasantly surprised. Not only a very happy buyer, but also with a sale of more than my expectation. I'm certainly very happy and also glad that the new owners are just as happy with their purchase. I will recommend you and everyone at Bendigo Property Plus for any Real Estate needs in the future. I'll be on the lookout myself at some stage, and will be in touch again.
- Tania
Neilborough
---
""Mightily impressed""
I have been mightily impressed with the service from Greg. A real champion.
- Rosie
Inglewood
---
""Greg has a wealth of understanding of the market""
We have used Greg a for a number of property sales and have found him to be helpful and very approachable. He has maintained excellent communication throughout the sale process and acted with honesty and integrity which are characteristics difficult to find in the real estate industry. Greg comes with a "no hidden agenda" approach and has a wealth of understanding of the market. We have no hesitation to use him to sell again when the need arises.
- Anne and Paul
---
""The best service""
Greg has provided the best service out of all my real estate transactions. I appreciated his honest friendly communication, and he was very helpful in following up questions I had in a timely manner. It's unlikely this sale would have gone through without his support. I will look him up for any future transactions.
- Tom
Bendigo
---